Hong Kong / Health & Environment
Coronavirus: Hong Kong Jockey Club member the latest confirmed case, bringing total in city to 85
Woman, 60, had visited private doctor five times before she was transferred to Hong Kong Sanatorium and Hospital in Happy Valley
Hong Kong leader Carrie Lam says details of an airlift of residents stranded in Hubei province's capital Wuhan will be announced on Wednesday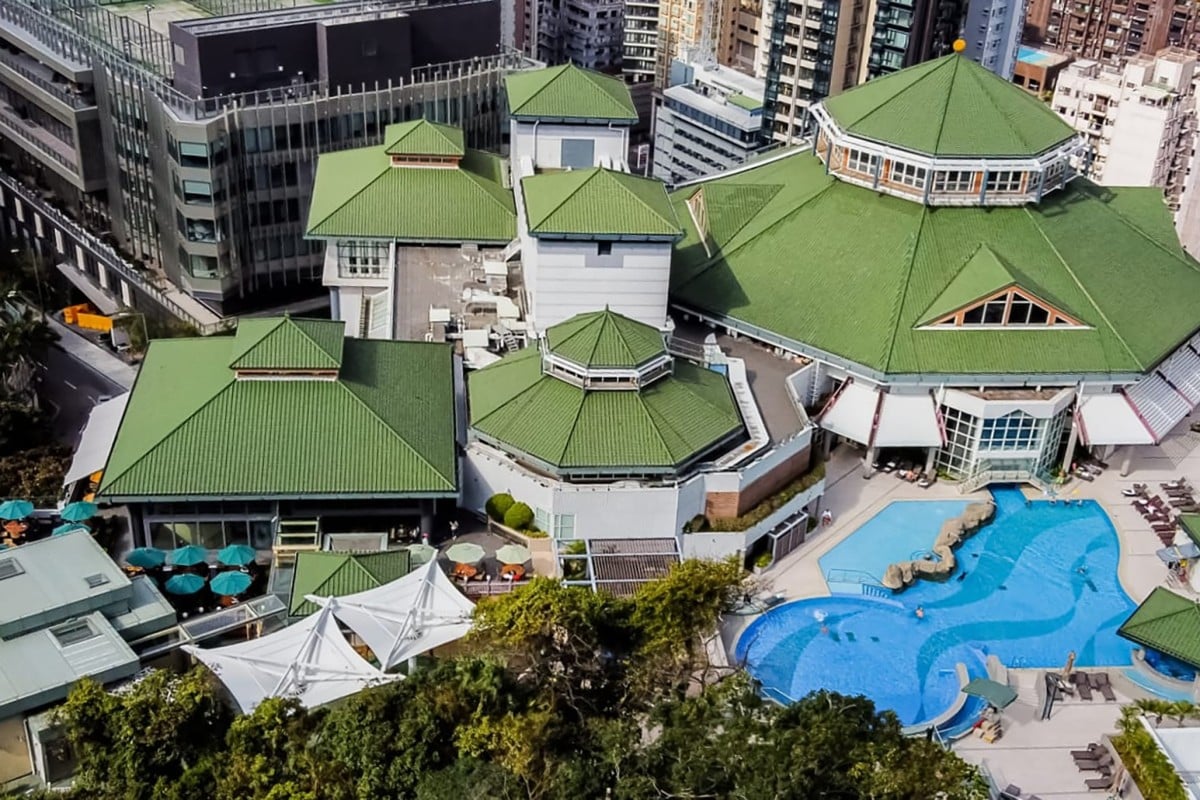 Certain facilities at the Hong Kong Jockey Club Happy Valley Clubhouse have been closed. Photo: Handout
A fourth coronavirus case was confirmed in Hong Kong late on Tuesday, a 60-year-old member of the Jockey Club, increasing the city's total number of infections to 85.
The woman, who lives in Tai Hang on Hong Kong Island, had consulted a private doctor five times before she was transferred to the private Hong Kong Sanatorium and Hospital in Happy Valley.
She previously visited Man Mo Temple in Sheung Wan, attended a wedding and went to galleries, among others.
That came as Chief Executive Carrie Lam Cheng Yuet-ngor said on social media that details of an airlift of Hongkongers left stranded in Hubei province's capital Wuhan, centre of the coronavirus outbreak, would be announced on Wednesday.
She said resources were not a concern, and promised to bring them back as soon as possible.
The government said on Monday it would send flights to rescue 2,700 Hong Kong residents scattered across the province, starting with 450 in Wuhan.
Two of the latest patients are being treated at Ruttonjee Hospital in Wan Chai. Photo: Handout
Earlier on Tuesday, three other cases were confirmed – an MTR station worker and two people linked to a Buddhist hall where there have been several infections – the Centre for Health Protection (CHP) said.
The Hong Kong Jockey Club had earlier issued a statement confirming a member had tested as preliminary positive at a private hospital and had used club facilities on two days.
"She visited the Food Plaza and Levade [shop] at Happy Valley Clubhouse on February 14. She also visited the Clubhouse gym on February 11," it said.
The club suspended until further notice the operations of the Food Plaza and facilities on the same floor. The gym, swimming pool and changing rooms at Happy Valley Clubhouse were also closed, with employees working on those days put into self-isolation for two weeks.
According to the CHP's records, the woman had visited at least 10 other places across the city since February 13, including commercial buildings in North Point and Wan Chai, the World Trade Centre in Causeway Bay, the JW Marriott Hotel in Admiralty and the Royal Hong Kong Yacht Club. She had also been to Lamma Island.
The patient, who lives in the Swiss Towers development, has been sent to Queen Mary Hospital in Pok Fu Lam for treatment.
The sanatorium said the patient, who had a cough for two weeks, underwent a coronavirus rapid test on Monday. The test room and lift the patient had used were disinfected.
"As the test result was positive, the patient was not admitted … she was transferred to Queen Mary Hospital on Tuesday morning," its statement said, adding that 13 staff who had been in contact with the patient were under medical surveillance and would go through tests as well.
The first confirmed case on Tuesday is a 33-year-old MTR employee. He is the son of the city's 72nd case, a 62-year-old man. He worked at the rail giant's Mong Kok East station as an attendant, and had been absent from work since February 21.
The other two, the 83rd and 84th cases, are a 55-year-old woman who had visited the Fook Wai Ching She worship hall in North Point and her son, 24.
The centre said it had taken 33 environmental samples from the worship hall, with two testing positive, one from a toilet tap handle and the other from the surface of a religious book and its cover cloth. All samples from common areas including lift, handles and doorbell tested negative.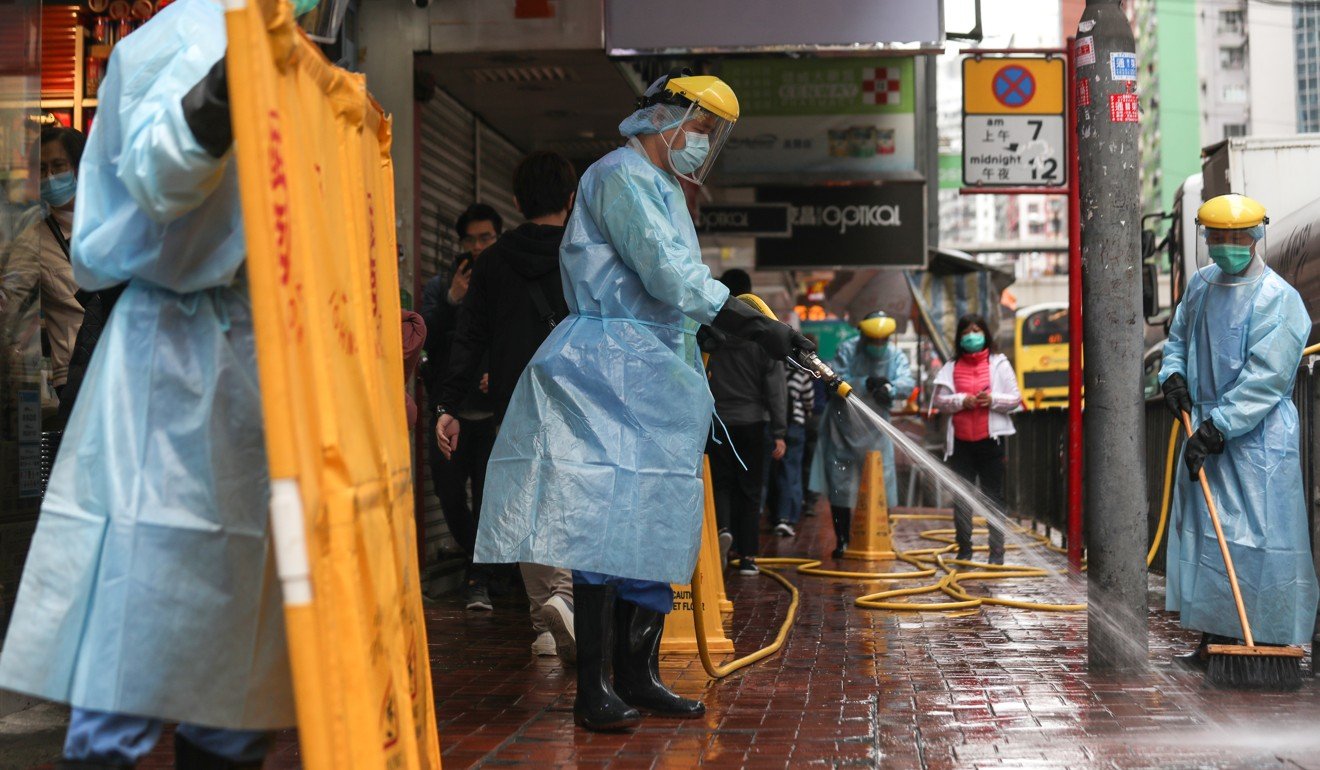 The area outside Fook Wai Ching She Buddhist worship hall on King's Road is cleaned on Tuesday morning. Photo: Xiaomei Chen
The woman is the sister of a 57-year-old diagnosed on Monday with Covid-19, the disease caused by the virus, after attending the religious venue, located in the Maylun Apartments building on King's Road, from February 3 to 8.
She went to work from February 9 to 22 at the KFC Ming Court Centre branch in North Point, but was responsible for frying chicken and had no direct contact with customers.
The son worked in the 1 Lyndhurst Tower office block in Central and had no travel history or symptoms. He went to hospital after his relatives contracted the virus.
The mother and son were being treated at Ruttonjee Hospital in Wan Chai.
Dr Chuang Shuk-kwan, the centre's communicable disease chief, said the positive samples taken from the hall, which had been sanitised and is currently closed, would be checked to see if they were related to the confirmed cases.
"We will return in a few days to see if the place is still contaminated, and as there is no transmission across other floors in the building, we currently do not have a plan for evacuation. But we will monitor closely," she added.
Chuang further warned the public to be careful after touching things in public places.
"People are now more careful with lifts and door handles … but if you cannot wash your hands and do not have sanitiser with you, then it is better not to touch yourself until you clean them."
She said some of the latest cases, including two on Monday and one on Tuesday, had no symptoms before the infection was confirmed, which "increases the difficulties in containing the epidemic".
With regard to the cases who worked in public places, KFC confirmed the related branch would be closed for two weeks, while the MTR said it would sanitise the whole station.
"For the 82nd case, of the MTR station officer, we are asking the MTR Corporation for the details of his working environment, and will classify the staff accordingly, whether some have to be sent to quarantine centres, or put under medical surveillance," Chuang said.
The MTR Corp said the officer had taken a rest day and sick leave since February 21 and had not returned to his workplace since then. He is being treated at United Christian Hospital in Kwun Tong.
The corporation said it had carried out precautionary measures, including requiring colleagues who have had close contact with the station officer to stay at home and contact the Department of Health. Medical experts would advise staff at the station about health precautions, it said. Cleaning and disinfection of stations and trains had also been enhanced.
Seven people have already been confirmed as infected this month after visiting the North Point worship hall. Two others are close contacts of them.
The hall was established in 1958 by a Buddhist master and has links with the Hong Kong Buddhist Association.
So far, 153 people have called the government's coronavirus hotline to say they have visited the hall.
Twenty-two of them, including the temple master, have been sent to quarantine camps, health authorities have said. Another 100 were under medical surveillance.
In a statement issued on Sunday, the association asked temples and halls to minimise large gatherings, and encouraged believers to pray and worship at home instead.
As of Tuesday, there have been two fatalities linked to the disease.
Coronavirus: China reports 508 new Covid-19 cases, with only nine outside outbreak epicentre
Separately, Hong Kong's neighbour across the border in mainland China, Shenzhen, has pledged to donate 1 million surgical masks to support epidemic control and prevention work in the city.
A statement from Beijing's liaison office in Hong Kong on Monday night said: "Shenzhen may or Chen Rugui announced that the Shenzhen people's government will donate 100,000 masks every day to Hong Kong via the liaison office, with the first batch of 1 million.
"It is to support Hong Kong's work in fighting against the epidemic."
Deputy liaison chief Yang Jian was quoted as saying: "The generosity has demonstrated that Shenzhen and Hong Kong are one family, and warmed the hearts of Hong Kong people.
"This will strengthen our confidence and determination to overcome the difficulties and fight against the epidemic together."